Bicycles and trains for a sustainable low-carbon transport system.
More than 200 of our train stations and stop-off points offer plenty of storage spaces for you to leave your bicycle before heading onto your next destination. Bicycle parking at large stations comprises covered stands which can accommodate from 50 to 100 cycles, while small stations and stop-off points offer stands for 10 to 30 bikes.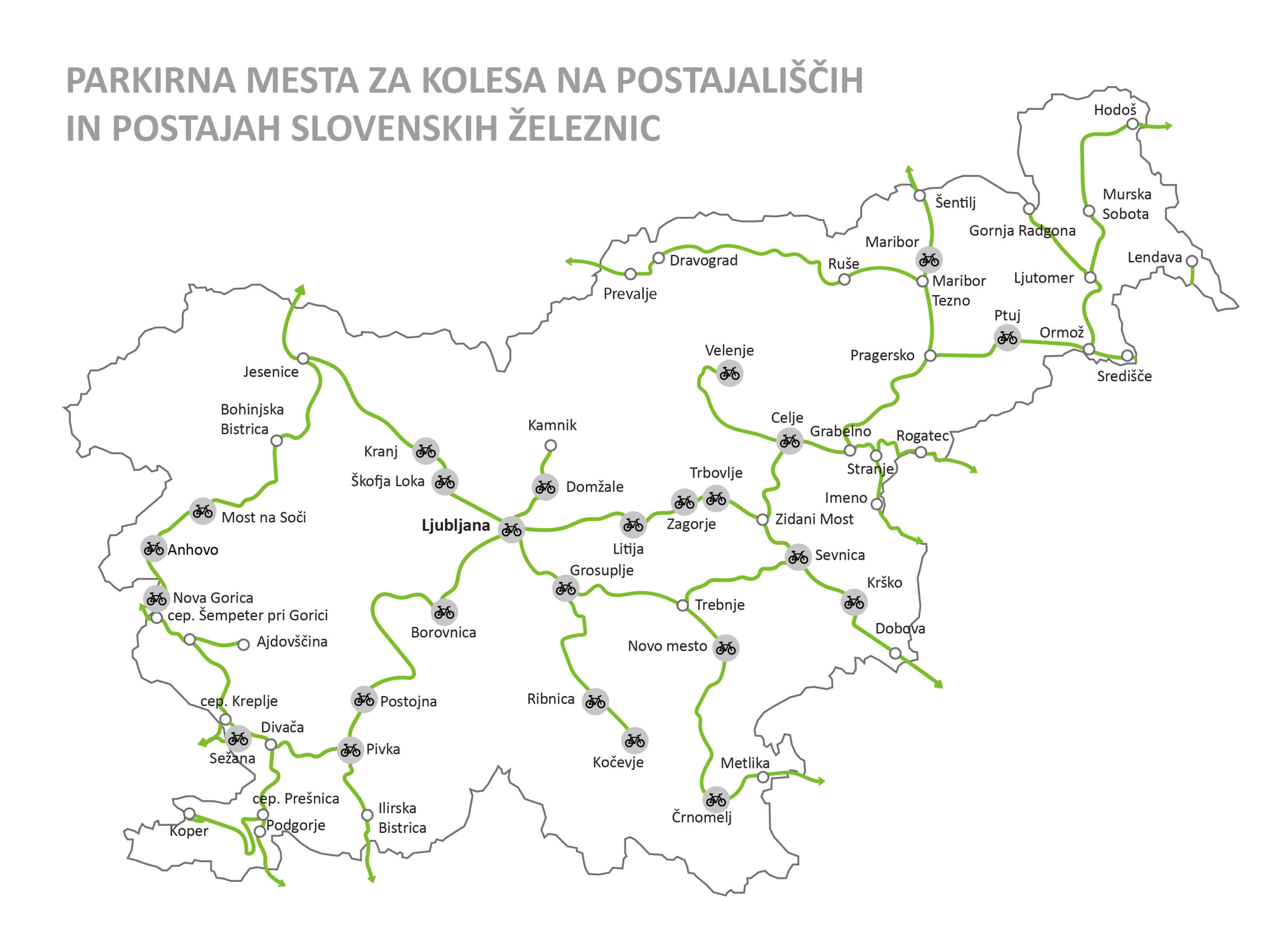 The project to provide bicycle parking spaces at train stations across Slovenia is part of our vision to promote sustainability and reduce emissions in transport by connecting two of the most environmentally friendly modes of transport – trains & bicycles. The parking spaces are intended for users of our train services. Setting up storage spaces helps us boost cycle ridership while reducing greenhouse emissions in transport.
In 2020 the infrastructure manager SŽ – Infrastruktura delivered cycle parking with covered and uncovered stands at 27 train stations and stop-off points – and 19 in the year before – across our rail network, bringing the total number of new cycle stands to more than 2400. This year we plan to install 2070 new cycle stands at 59 stations and stop-off points, e.g. the Koper station will offer 80 stands, the stations of Medvode, Kresnice, Dobova and Ormož will have the capacity for 50 cycles each, and a total of 10 will be installed at Podčetrtek. We intend to continue this trend in the coming years so as to make rail more attractive to anyone who uses public transport a lot and starts or ends their journey on a bicycle, be it for school, work or leisure. The delivery of cycle parking in the coming years will largely depends on the amount of state funding allocated to this project by the Ministry of Infrastructure.
Under the project, we will continue installing more storage spaces for bicycles at our train stations and stop-off points while also making cycle parking more convenient and secure for users of public transport.
Moreover, there are plans to introduce a bike sharing system and e-bike charging facilities at certain stations, which will connect all compatible sharing systems at various locations across Slovenia.