A society is as strong as its weakest link. Today many families are experiencing poverty and struggle to make ends meet. Forging the path to a better future is not easy, but nothing is out of reach when we share a bond and support each other. That's why we choose to make a difference by taking part in social projects close to the hearts of people, and one such instance is Veriga dobrih ljudi.
Veriga dobrih ljudi (meaning 'A chain of good people') is a social project championed by Anita Ogulin, an activist and president of the Slovenian non-profit humanitarian organisation Zveza prijateljev mladine Ljubljana Moste – Polje. In 2021, the donations made under the project helped many low-income households in their biggest time of need. More than 3500 packages of food were distributed to a total of 2020 households and affordable therapy was provided to over 1900 children and their families or caretakers. By December a further 513 families joined the project for counselling and basic provisions.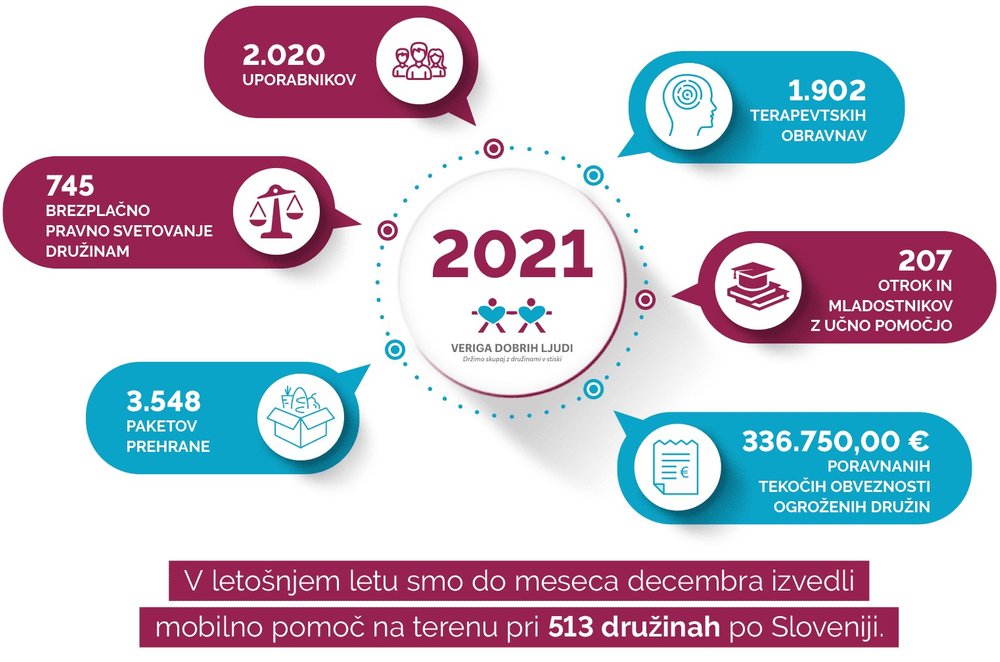 December is a month of hope, joy and solidarity. It is a time when inclusion of all members of society is more important than ever. We invite you to join the cause and become one of the good people in the chain to help disadvantaged families enjoy this time of celebration.
2021 marks Slovenske železnice Group's third anniversary with Veriga dobrih ljudi. This year we prepared more than 1000 gifts, which will be distributed by Zveza prijateljev mladine to families with young children, bringing joy in this special holiday time and wishing that the year ends on a good and happy note for everyone regardless of their situation.